Weird Microsoft Stuff
3 interesting idiosyncrasies re Microsoft that I found while surfing the net recently. 2 out of the 3 worked on my Windows Vista machine with Office 2003. See how they work for you.
1. CON is not allowed as a folder name
An Indian discovered that nobody can create a FOLDER anywhere on the computer which can be named as 'CON'.
See if you can create a con folder on your PC.
This is not really a bug and Microsoft do know about this. It goes back to the DOS days and reserved filenames.
Below are other reserved names.
CON
PRN
AUX
CLOCK$
NUL
A:-Z:
COM1
LPT1
LPT2
LPT3
COM2
COM3
COM4

KEYBOARD AND DISPLAY
SYSTEM LIST DEVICE
Auxiliary device, usually a serial port
System real-time clock
Bit-bucket device
Drive letters
First serial communications port
First parallel printer port
Second parallel printer port
Third parallel printer port
Second serial communications port
Third serial communications port
Fourth serial communications port
2. Notepad Bug
1.) Open an empty notepad file
2.) Type "Bush hid the facts" (without the quotes)
3.) Save it as whatever you want.
4.) Close it, and re-open it.
is it just a really weird bug? :-??
3. =rand (200, 99) bug
This is a strange bug. At Microsoft the whole Team, including Bill Gates, couldn't answer why this happened. It was discovered by a Brazilian. Try it out yourself.
Open Microsoft Word and type
=rand (200, 99)
And then press ENTER and see what happens.
Internet Explorer or Firefox ?

Video: YouTube
It would seem from this small survey, that most computer savvy people prefer Firefox over Internet Explorer. The people who use Internet Explorer seem to do so because that is all that they know.
Customer waits 10 years for Microsoft support call
This is a funny story. A guy who calls his blog Bic's Bickerings has a post on his blog about receiving a support call from Microsoft 10 years after the original call was placed.
Apparently the call was received at his parents place where he no longer lives.
You can read the full story on his blog at Bics Bickerings
See more news on this story at Computer World
Microsoft patents 'Big Brother' system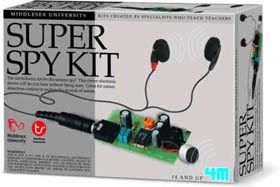 "Microsoft is developing Big Brother-style software capable of remotely monitoring a worker's productivity, physical wellbeing and competence."
"The Times has seen a patent application filed by the company for a computer system that links workers to their computers via wireless sensors that measure their metabolism. The system would allow managers to monitor employees' performance by measuring their heart rate, body temperature, movement, facial expression and blood pressure. Unions said they fear that employees could be dismissed on the basis of a computer's assessment of their physiological state."
My question is "Hasn't Microsoft been doing this sort of thing for a while now, Checking up on us? Now they wan't to make money by selling their spy software. Checkout the full story on Times Online at the link below.
Website: Microsoft Spy Software at Times Online
Vista Media Centre – Part 1 Music/Radio and Pictures
This is Part 1 of a 2 part series on Vista Media Centre. Here I will discuss Media Centre in general and the Music/Radio and Pictures sections.
Windows Vista Media Centre allows you to watch and record TV shows, download movies, play DVD's and photo slide shows on both your computer or TV. You can even archive TV shows directly to DVD.
Media Centre has been around for a while, however with the Windows XP version you had to purchase a totally separate edition to get it. With Windows Vista you get Media Centre built in when you purchase Vista Premium or Ultimate.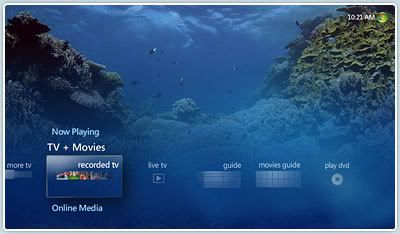 Windows Media Centre
When you first start Media Centre it will automatically search your computer for media files. You may also notice Media Centre is optimized for wide screen displays as these are becoming more popular in the computer and TV world.
Lets just briefly look at the different components of media centre and what you can do with them.
Music
With the Music Library you can see a wall showing you cover art for all your albums and songs. Using your remote or mouse you are able to select which album or song you want as shown below and then press play.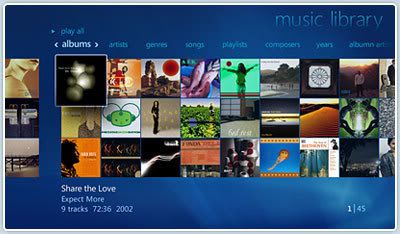 Media Centre Music Library
Radio is also a part of Media Centre. Just pick the radio tile and then choose terrestrial ( FM antenna needed ) or Internet Radio Station, which requires an Internet connection.
Manage your Photo with Picture Library
You can access all your pictures using the Pictures + Videos Section of Windows Media Centre. Upon opening this section you will be able to navigate your folders and view thumbnails of your pictures as shown in the picture below. You will also be able to perform basic editing of your photos and prepare them for printing, creating slide shows and also burning to DVD. The editing options for you photos are basic and if you need to do any major enhancements of you images you may need to use a third party package such as Adobe Photoshop.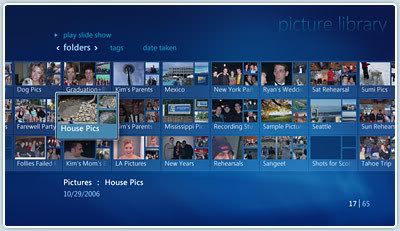 Media Centre Picture Library
Part two of this post will follow and I will discuss Home Video, TV and Movies and the Media Centre Extender.
Vista Aero and Flip 3D
In earlier posts I listed the main features built into Vista. In the next series of posts I would like to explain some of the main features in detail.
Lets start with Aero and Flip 3D
Windows Aero is the new look and feel you get with Vista Premium, Business, Ultimate and Enteprise.
Now Microsoft will tell you that "Windows Aero is the best-designed, highest-performing Microsoft user interface ever"
Basically I have found that the new interface does look quite flashy, you get transperant windows, live phumbnails and icons and a fancy glassy look to the screen as shown below.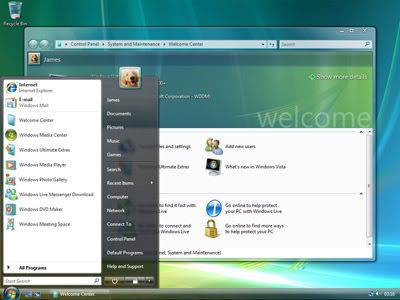 Vista Aero experience
Flip and Flip 3D creates live phumbnail images showing the exact content of any open windows. These windows can then be accessed easily using Alt+Tab (Flip) and Win+Tab keys (Flip 3D). Flip 3D is shown in the image below. This allows you to quickly and easily access running programs if you are a user that regularly has multiple programs open.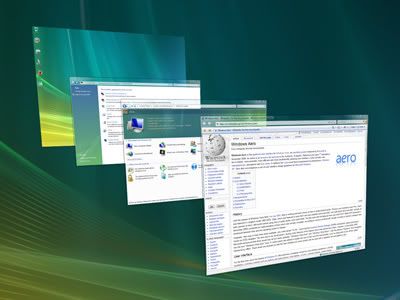 Vista Flip 3D
Visit the Microsoft Website for more details