Backing up Mozilla Thunderbird
If you use Mozilla Thunderbird as your email client then you will need to know how to backup regularly so that in case of disaster you do not lose all your messages and addresses.
So how do you do this? Well there are a couple of ways and they are not that difficult.
1. Use a utility such as MOZBACKUP
Mozbackup will automatically backup the essential files for Mozilla Thunderbird as well as Firefox. The program will not backup all files in your profile, however almost all people will only need the essential files.
Mozbackup can be found at this link, Mozbackup.jasnapaka.com
Select DOWNLOAD and then choose the INSTALL PROGRAM option to download.
Once you have the program downloaded you can double click to install it.
The program uses a wizard, so it is easy to use, just follow the prompts to setup manual or automatic backups.
You'll just need to decide if you are putting the backup on removable drives such as a flash drive or onto rewritable CD or DVD.
2. Perform a manual backup
To backup Thunderbird manually all you need to do is make a copy of the profile folder to another location, such as a removable hard drive / flash drive or a rewritable CD or DVD.
If you are not sure how to backup to removable drives or DVD/CD, see my earlier post, How to backup your data.
So where is your data?
Windows 2000 or XP
C:\documents and settings\YOUR LOGON OR USERNAME\application data\thunderbird\profiles\profile name\
Windows 98 or ME
C:\windows\application data\thunderbird\profiles\profile name\
I suggest that you just copy the profiles folder and everything in it and you will be assured of getting everything you need if ever you have to restore due to a failure.
So thats it, as long as you get your profiles folder backed up onto a removable drive or CD/DVD regularly then you will be safe
To restore in case of a disaster all you need to do is the reverse. If a disaster has left you with a computer freshly installed with Thunderbird and none of your data then you just need to overwrite the newly installed empty profile folder with your backed up copy.
How to backup your data
This document is based on backup in Windows XP, Vista or 98. The main principles will still apply to Macs and Linux, however your data will be in a different location to what is suggested here.
Most people with computers would be aware that you need to backup. Only trouble is most people are not sure what and how and how often they should be backing up.
So how often should you backup.
My golden rule is, if you have done enough work or taken enough photos or downloaded enough music that you would not want to have to redo the work, then it is time to backup.
So if you take photos everyday or work on documents everyday, then you should be backing up at the end of every day.
So what do you need to backup.
Basically you only really need to backup your work, your photos, music. You do not need to backup windows or your programs as you will have the windows disk and software disks with your programs.
In later posts I will provide instructions on how to backup emails and address books for Outlook and Thunderbird as well as your favourites.
So what method should I use to backup.
There are a couple of methods that I would recommend for the average PC user.
1. Rewritable DVDs (DVD RW) or Rewritable CDs (CD RW) or though the CDs are starting to get out of date they are still useful if you are only backing up less than 700 MB per Disk.
The advantages of backing up to media such as DVDs are:
The disks are relatively inexpensive.
You can make multiple copies and put some copies away or take to a friends house in case of fire or theft.
2. Portable hard disk drive or Flash Drives.
Portable hard drives are more expensive than Disks, however you can store much more data without the need to use multiple disks as you would have to with DVDs if you had a large amount of data.
So how do I backup.
First thing you need to do is determine what you need to backup and how many megabytes your data is.
So how much data can I store
CD-Rs hold 700 MB of data
DVDR or DVDRW hold 4.37GB (4700MB) note the slight difference here, please only try to put a maximum of 4.37GB onto a DVD.
Portable hard drives or flash drives: It will depend on how big the drives are and how much space you are already taking up on the drive.
Finding your data and its size.
Your My Documents
This includes Documents, Music and Pictures. (unless you have stored Music or Pictures outside the default location)
So your main location for data is your My Documents folder. For windows xp users this folder can be found by opening windows explorer (start, all programs, accessories, windows explorer).
Once you have windows explorer open you will see a folder in the left hand window called My Documents. You need right click on this folder and choose properties and then the general tab and see how many MB it says for size.
For Windows Vista users you will need to open windows explorer and in the left hand column you will see a Vista OS(C:), if you expand this you will see a folder called users, expand this folder and find your logon name, right click on this name and select properties and confirm the size in MBs or GBs.
So the main thing here is make sure that the available space on your backup media is more than the amount of data you intend to backup.
Backup procedure to portable hard drives or flash drives
So first we need to plug in the portable hard drive or flash drive to an available USB slot in your computer.
Next we need to create a backup folder on the portable drive. Open Windows explorer and in the left hand window navigate and find the removable drive, it will most likely be listed as one of the drives below your cd or dvd drive.
Highlight the drive in the left hand window of explorer and then select the menu options file / new / folder. Now you can type the name backup or whatever you want to call the folder.
Now all you need to do is navigate back to your My Documents folder (XP) or your Folder with your user name (Vista) as decsribed above.
Right click on top of your folder and select copy. Then navigate to the backup folder you created on the portable drive and right click on top of this folder and select paste.
A copy of your data will now be sent to your removal drive.
When you go to perform the copy and paste the next time, you will be asked to overwrite your existing files. At this point you can select yes to all and your data will be updated with the new files.
Backup procedure to CDRW or DVDRW
Before backing up your data to a rewritable DVD or CD the disk will need to be formatted (or prepared) using your burning program.
With Nero you will need to select prepare rewritable disk. Depending on which other program you have for burning you will need to choose to prepare rewritable disk. Once this is done your disk becomes equivalent to another drive.
You can copy files to the DVDRW or CDRW as is described above for the backup to portable hard drive.
So thats it for backing up your My Documents, Photos Music etc, next few posts will describe backing up emails to Outlook and Thunderbird as well as backing up your favourites.
Adjust Visual Setting for more speed from your PC or Laptop
Most people these days are in a hurry. Lots of things to do, and the last thing you need is for your computer to be running slowly. Here is a quick and simple way to get your XP or Vista PC or Laptop to run a bit better. The best thing is it should only take about a minute or so to do.

Adjusting Visual Settings in Windows XP
You will need to get to your system properties dialog box, and there are 2 ways you can do this.
If you have a My Computer icon on your desktop you will need to right click on it and choose properties.
If you don't have the My Computer icon you will need to go to start and then Control Panel and choose the system icon.
Once you have the system properties dialog box open you will need to choose the tab which says Advanced.
Next to the option for Performance you need to choose Settings.
Then finally under the Visual tab you will have a number of boxes which are ticked.
Now remove all of the ticks except for the bottom two.
The two ticks to keep are, 1. Use drop shadows and 2. Use visual Styles.



Adjusting Visual Settings in Windows Vista
Ok for the Vista users we will need to get to the system properties dialog box and this can be done 2 ways.
If you have a My Computer icon on your desktop right click on it and choose properties.
If you don't have the My Computer icon on your desktop you will need to go to the start button, Control Panel then choose Classic View from the left hand panel and find and open the System Icon.
So now we both should be able to see the option for Advanced System Settings in the left hand window, go ahead and choose that option.
Choose the Advanced tab and next to the performance section choose settings.
Under the visual tab you will need to clear all of the ticks except for,
1. Show Thumbnails instead of icons
2. Use Drop shadows for icon labels on the desktop
3. Use Visual Styles on windows and buttons
Select OK then OK again and your done.
Now the performance difference you get will vary depending on the how your machine was running originally. I do however almost always see a marked difference in the speed when opening programs and moving from one open program to another.
Please leave me a comment if you are unclear and need some help with implementing this procedure on you system.
Vista Media Centre – Part 2, Home Video TV and Movies
In continuing from my previous post lets now look at the Home Video and TV and Movies features of Vista Media Centre. To make use of TV and Movies you will need a TV card and you will require connection to an external aerial.
Home Videos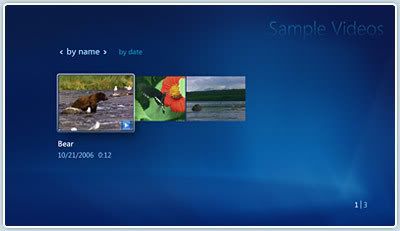 Media Centre Home Video
Your home videos can be viewed from the Pictures + Videos section of Media Centre
Windows Media Centre allows you to view each of your movies using a thumbnail image (see picture above) taken from within the movie, this makes it easier for you to scroll through you movies and select the one you want to view and hit the play button.
Using Windows Movie Maker HD you can also edit high definition home videos and then view these on your PC or TV.
TV and Movies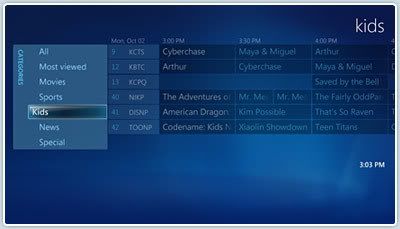 Media Centre TV
With Media Centre TV and Movies you can watch, pause and record TV live on your PC or PC connected home entertainment system.
To watch TV select TV + Movies, choose guide, find the TV show you want to watch, then click the show you want from the guide. You also have the option to select the category of show you want to watch as well.
To watch Movies select TV + Movies, choose movies guide select between top rated, on now, on next or genres. Next select a movie that is currently airing and select watch.
Recording TV in Vista Media Centre
Using Media Centre you can record TV and Movies directly to your PC's hard drive, the show is recorded and saved with a .dvr-ms file extension.


Media Centre record TV options
To record a TV show while it is playing, using your mouse find and then click Record on the transport controls.
To record a show from the start select TV + Movies, click guide, find and right-click the TV show that you want to record, and then click Record.
You also have options to record a TV series by selecting record series from the TV guide.
Playing recorded content.
From the start screen, scroll to TV + Movies, and then click recorded TV. Locate the thumbnail for the show you want to watch, highlight the show and from the program info screen select play.
You also have many other options which I won't discuss in detail such as recording by channel or time, record only new episodes of a certain series, and finally these recorded shows could be burnt to DVD.
Stay tuned for my next post Vista Movie Maker and Movie Maker HD.
Vista Media Centre – Part 1 Music/Radio and Pictures
This is Part 1 of a 2 part series on Vista Media Centre. Here I will discuss Media Centre in general and the Music/Radio and Pictures sections.
Windows Vista Media Centre allows you to watch and record TV shows, download movies, play DVD's and photo slide shows on both your computer or TV. You can even archive TV shows directly to DVD.
Media Centre has been around for a while, however with the Windows XP version you had to purchase a totally separate edition to get it. With Windows Vista you get Media Centre built in when you purchase Vista Premium or Ultimate.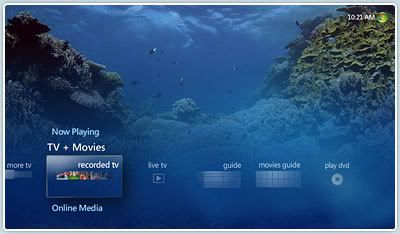 Windows Media Centre
When you first start Media Centre it will automatically search your computer for media files. You may also notice Media Centre is optimized for wide screen displays as these are becoming more popular in the computer and TV world.
Lets just briefly look at the different components of media centre and what you can do with them.
Music
With the Music Library you can see a wall showing you cover art for all your albums and songs. Using your remote or mouse you are able to select which album or song you want as shown below and then press play.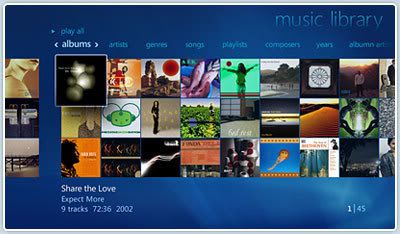 Media Centre Music Library
Radio is also a part of Media Centre. Just pick the radio tile and then choose terrestrial ( FM antenna needed ) or Internet Radio Station, which requires an Internet connection.
Manage your Photo with Picture Library
You can access all your pictures using the Pictures + Videos Section of Windows Media Centre. Upon opening this section you will be able to navigate your folders and view thumbnails of your pictures as shown in the picture below. You will also be able to perform basic editing of your photos and prepare them for printing, creating slide shows and also burning to DVD. The editing options for you photos are basic and if you need to do any major enhancements of you images you may need to use a third party package such as Adobe Photoshop.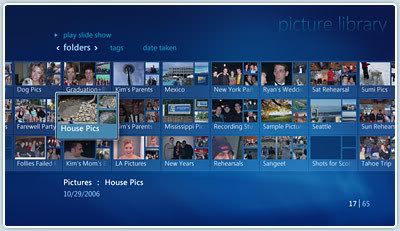 Media Centre Picture Library
Part two of this post will follow and I will discuss Home Video, TV and Movies and the Media Centre Extender.
Windows Vista Parental Controls
Windows Vista Parental Controls allow parents to limit the way kids can use their computers as well as seeing what their children are doing or accessing on their computer.
Before Parental Controls can be used their must be a login account for the child. This login can be created using Control Panel, User Accounts and Add or Remove User accounts.
Once the user account is created you then go to Control Panel, User Accounts and Family Safety and Setup Parental Control. You will be asked for which user you want to setup the control for as shown below.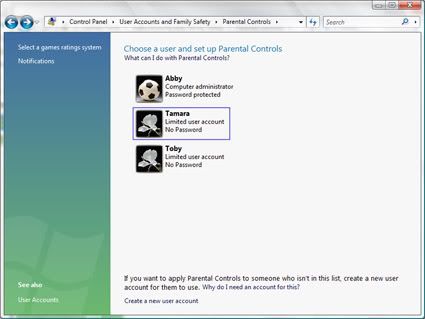 Once you have chosen the user you will be presented with the screen below.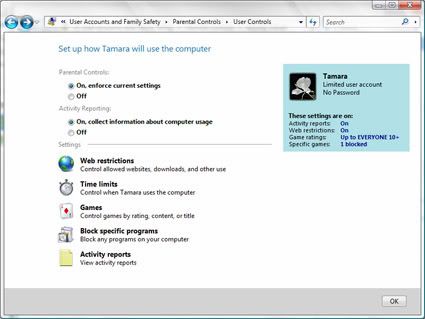 When you turn on activity reporting for the child you then know when your child was on the computer, what programs and games they were using and what websites they have accessed.
You can also implement the following restrictions;
Time Limits: When the child can use the computer.
Web Restrictions: What type of websites can be accesses, even specific sites.
Application Restrictions: Only allow certain programs to be used.
Game Restrictions: Restrict access to certain games based on their ratings.
The above options when used should help parents to keep their children safe from exposure to unwanted nasties.
Vista Aero and Flip 3D
In earlier posts I listed the main features built into Vista. In the next series of posts I would like to explain some of the main features in detail.
Lets start with Aero and Flip 3D
Windows Aero is the new look and feel you get with Vista Premium, Business, Ultimate and Enteprise.
Now Microsoft will tell you that "Windows Aero is the best-designed, highest-performing Microsoft user interface ever"
Basically I have found that the new interface does look quite flashy, you get transperant windows, live phumbnails and icons and a fancy glassy look to the screen as shown below.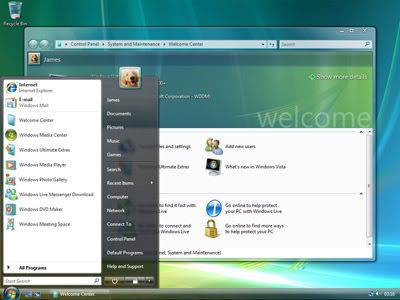 Vista Aero experience
Flip and Flip 3D creates live phumbnail images showing the exact content of any open windows. These windows can then be accessed easily using Alt+Tab (Flip) and Win+Tab keys (Flip 3D). Flip 3D is shown in the image below. This allows you to quickly and easily access running programs if you are a user that regularly has multiple programs open.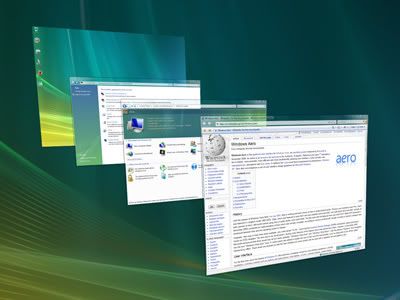 Vista Flip 3D
Visit the Microsoft Website for more details
Which version of Vista should I get ?
So whats this Vista Basic, Business, Premium, Ultimate thing all about, which version does what??
The versions available are;
Basic, Premium, Business, Ultimate and Enterprise.
Lets have a look at some of the main features included with each version.
Feature
Home Basic
Home Premium
Business
Enterprise
Ultimate
Windows Aero and Flip 3D
Parental Controls
Windows Media Center
Windows Movie Maker
Limited
Windows Movie Maker HD
Windows DVD Maker
Scheduled backup
Real-time backup and recovery available on all editions
System image backup and recovery
BitLocker Full Drive Encryption
Encrypting File System (EFS)
Windows ShadowCopy
Join domain
IIS Web Server
Offline files and folder support
Network Projector support
Windows Mobility Center
Partial
Partial
Tablet PC functionality
Touch screen support
Windows SideShow (secondary display support)
Windows Fax and Scan
Simultaneous SMB network connections
5
10
10
10
10
Remote Desktop
Client only
Client only
Support for multiple user interface languages
(36 languages total) available
Subsystem for UNIX-Apps
Virtual PC Express
Live Taskbar Thumbnails
Max RAM 64-bit version.
4 GB Max for all 32 bit vers
8 GB
16 GB
128+ GB
128+ GB
128+ GB
Physical CPU support
Unlimited core's are supported in all versions
1
1
2
2
2
Windows Anytime Upgade; to
Premium or Ultimate
Ultimate
Ultimate
Not needed
Not needed
Let me just say there are quite a number of features that are being offered with Vista, however almost all of these features are not available in Vista Basic and therefore I would not recommend that anyone purchase Vista Basic.
Also the Enterprise version is only available to Volume License clients, so this leaves 3 options: Premium, Business or Ultimate.
Now lets look at a price comparison between the Versions.
Approx Current Australian Prices
OEM – Basic $130, Premium $150, Business $215, and Ultimate $285.
Retail -Basic $358, Premium $425, Business $537, Ultimate $695
Approx Current USA Prices
OEM – Basic $99, Premium $119, Business $149, and Ultimate $199.
Retail -Basic $199, Premium $239, Business $299, Ultimate $399
As you can see the price difference between Basic and Premium is next to nothing and as Basic has almost no added features that is why I say don't ever buy the Basic Version.
As for the 3 other versions this would be my recommendation.
1. If you are a home user on a budget I would recommend Vista Home Premium
2. If you are a home user and money is not an issue and you could use the added features than I would recommend Vista Ultimate
3. If you are a business user I would recommend purchasing Vista Business for the majority of your desktops and only purchase Vista Ultimate for the desktops that specifically require any of it's added features.
Hope this post has helped with your decision making, my next few posts will discuss some of the features that are listed in the table above as well as the difference between OEM and Retail software.